Kahl Receives Committee Assignments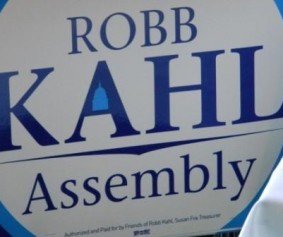 Monday, December 31st, 2012 @ 4:54AM
December 29th, 2012
(Madison) State Representative-Elect Robb Kahl, 47th Assembly District, has received his committee appointments for the 2013-2014 legislative session. The committees are:
Aging and Long-Term Care
Energy and Utilities
Insurance
State Affairs
Joint Committee for Review of Administrative Rules

"I am pleased to have been appointed to committees that deal with a variety of issues," Kahl stated.  "The large number of committees created in the Assembly for the coming session means that members will take on more committee assignments than previously.  This gives us more opportunities to have an impact on a larger variety of bills while they are being reviewed and debated in committee before being brought to the floor."
"In particular, I am very appreciative to Minority Leader Barca for appointing me as one of only two Assembly Democrats to the Joint Committee for Review of Administrative Rules, since rule-making is such an important part of the legislative process," Kahl noted.  "The real impact of a change in law is often determined by the details contained in the 1,768 chapters of Administrative Rules drafted by the agency charged with enforcement of the law.  As a member of the Joint Committee for the Review of Administrative Rules, I will have the opportunity to help shape policy on a wide variety of issues being addressed by proposed rules."
Representative-Elect Robb Kahl will be sworn into office as the State Representative for the 47th Assembly District on Monday, January 7th.  The newly configured 47th Assembly District includes all of McFarland and Monona, part of the cities of Fitchburg and Madison, and all or part of the towns of Cottage Grove, Blooming Grove, Dunn and Madison.
"Residents of the 47th Assembly District are welcome to stop by my office, located in Room 7 West of the Capitol," Kahl said.  "In addition to personal visits, residents are also invited to call me at 608-266-8570, or email me at Rep.Kahl@legis.Wisconsin.gov, with any questions, concerns or comments."
Posted by admin
Categories: 2012 Press Releases, Press Releases
Tags: 47th Assembly District, committee, legislature, Robb Kahl, Wisconsin, wisconsin assembly